Obedience and protection...............
This is where it all happens, the training field at the Miami PBA facility, 2300 NW 14th Street, Miami
---
Tracking.....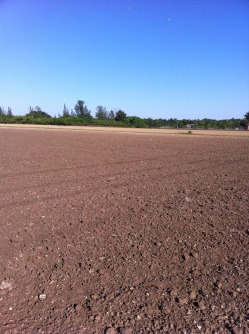 This is a nice example of the many fine tracking fields available to us. We train and trial on plowed dirt fields which are easy to learn on .
---
The South Florida Schutzhund Club is an all breed working dog club that trains in Miami-Dade county. We are active members of both the DVG and the GSDCA-WDA. The club was first started in the 70's by Phil Hoelcher and Bud Yesner. The group later became what is now the South Florida Schutzhund Club. Training is on Tuesday, open obedience and protection at 7 PM at the City of Miami Police Benevolent Association field. Stop by and check us out! If you want to train your dog for Schutzhund and are interested in titling your dog or if you dream of competing internationally, we are the club for you. Club members range from beginner to national and international level competitors. We have excellent trainers and we are also very fortunate to have excellent helpers who devote a lot of their time to help the members reach their training goals.
Club officers and contact information...